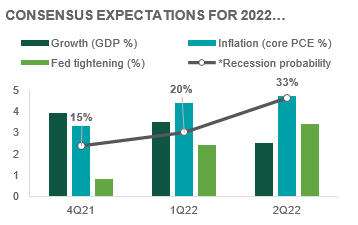 13 Jul

Quarterly Review Q2 2022

HOLDING THE LINE

Often assumed to be a military expression, the earliest use of the term "hold the line" is actually first traced back to American football (with the "line" being the line of scrimmage). But, of course, the term is often used in a number of circumstances – military or otherwise. And it can certainly be used today to address current dynamics playing out in the global economy and financial world.

Ukrainian armed forces. The most obvious application is to the war in Ukraine, recently surpassing its fourth month. A fairly well-established battle line has been drawn in the eastern part of the country – with the Russian army now occupying much of the Donbas area (about half the size of Iceland) and with little meaningful progress made of late by either side. Read the full Quarterly Review Q2 2022.